Japan-U.S.Governors Forum 2018(August27-28,2018)
The National Governors' Association of Japan (JNGA) alongside the National Governors Association of the United States (USNGA) carried out the "Japan – US Governors Forum 2018"from 27th – 28th August (Mon. – Tues.) in Tokyo. The purpose was to deepen exchange between Japan and the United States and further develop mutual understanding and cooperation. 5 governors and representatives from the United States came to Japan for the forum.
 
At the opening ceremony on the morning of the 27th, Governor Ueda of Saitama (JNGA President) and Governor Sandoval of Nevada (previous USNGA Chair) carried out opening addresses. Next, Seiko Noda, Minister of Internal Affairs and Communications, Taro Kono Minister for Foreign Affairs, and H.E. William Hagerty, United States Ambassador to Japan, participated as guests. Finally, governors of Japan and the United States and other participating members made their introductions and gave presentations about their home prefectures and states.
On the afternoon of the 27th during the governors' session, governors and other participating members gave presentations and carried out discussions on the theme "The Role of Sub-National Governments in Innovation and International Investment Promotion" in front of approximately 150 forum attendees. In the morning of the 28th, governors and other participating members carried out an exchange of opinions around the theme "Human Resources and Education".
On the afternoon of the 28th, governors from both countries paid a courtesy visit to Prime Minister Shinzo Abe at his office.
During the two days, a reception hosted by the JNGA was held, where many other dignitaries were in attendance including Shinsuke Okuno, State Minister for Internal Affairs and Communications and H.E. Shinsuke J. Sugiyama Ambassador Extraordinary and Plenipotentiary of Japan to the United States of America.
There was also a lunch meeting between US Governors and Keidanren representatives held by Keidanren as well as a US Investment Seminar held by JETRO.
At the closing ceremony on the 28th there was an exchange of gifts by governors of both countries and an introduction of the JET Programme by supporting organization CLAIR (The Council of Local Authorities for International Relations)
Please direct all enquiries to JNGA Dept. of General Affairs: oya@nga.gr.jp
US participants:
Governor Sandoval of Nevada (also previous Chair of the USNGA) and First Lady of Nevada Lauralyn Sandoval
Governor Bevin of Kentucky
Governor Martinez of New Mexico
Lt. Governor Foley of Nebraska
Administrator Rojas of Guam Economic Development Authority
Japan participants:
Governor Ueda of Saitama (president of the JNGA)
Governor Oigawa of Ibaraki
Governor Omura of Aichi
Governor Arai of Nara
Govenor Hirai of Tottori
Governor Ibaragi of Okayama
Governor Yuzaki of Hiroshima
Governor Hamada of Kagawa

Governor Ueda of Saitama (president of the JNGA) Opening Remark
Opening Ceremony, 27th August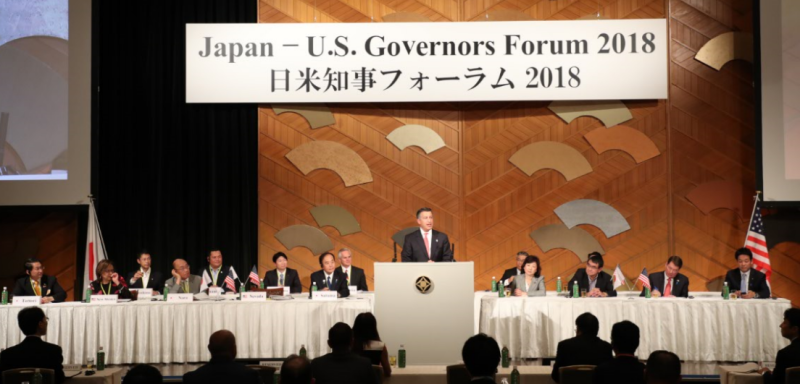 Governor Sandoval of Nevada (previous Chair of the USNGA) Opening Remark
Opening Ceremony, 27th August

Governors Plenary Session
27th August

JNGA Reception
27th August

Governors Round table Session
28th August

Courtesy Call to Prime Minister Shinzo Abe
Office of the Prime Minister 28th August